Soul Knight is a game made by ChillyRoom Inc. © for Android, iOS, and Nintendo Switch, released as of 17th February 2017. The current version of the game is 3.0.1, released on 4th February 2021 on Android and iOS.
Soul Knight is inspired by the game Enter The Gungeon (a bullet-hell rogue-lite game produced by Dodge Roll and Devolver Digital).
In-store description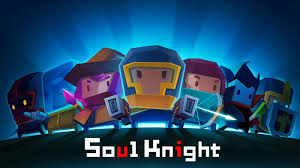 "Explore the dungeon, collect crazy weapons, dodge bullets and shoot'em all up!"
"In a time of gun and sword, the magical stone that maintains the balance of the world is stolen by high-tech aliens. The world is hanging on a thin thread. It all depends on you retrieving the magical stone…" 
We honestly can't keep making it all up. Let's just shoot some alien minions!
This is the game you have always wanted in your subconscious. Explore the dungeon, collect crazy weapons, dodge bullets and shoot'em all up! Extremely easy and intuitive control; super smooth and enjoyable gameplay, mixed with rogue-like elements. Best shooter game you will find on the mobile store so far.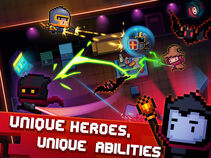 Features:
* Unique heroes, with unique [abilities].
* 270+ weapons waiting for you to explore.
* Randomly generated dungeon world, new experience every time.
* NPCs that actually matter! They will fight by your side!
* Auto-aim mechanism for super intuitive control.
* Many more features that you will find out in game.
Other Information
Downloads
50,000,000+ on Android
Content Rating
PEGI 7 (Google Play Store) - Mild violence.
9+ (iTunes Store) - Infrequent/Mild Cartoon or Fantasy Violence.
Cost of In-app Products
£0.88 - £4.22 per item
Contact
Facebook: https://www.facebook.com/chillyroomsoulknight/
KTplay: https://i.ktplay.com/app/id101780
Twitter: @ChillyRoom
Email: info@chillyroom.com
Support: http://www.chillyroom.com/
Instagram: @chillyroominc
Discord: @ChillyRoom#6451 (or @ChillyRoom Staff)
Community content is available under
CC-BY-SA
unless otherwise noted.