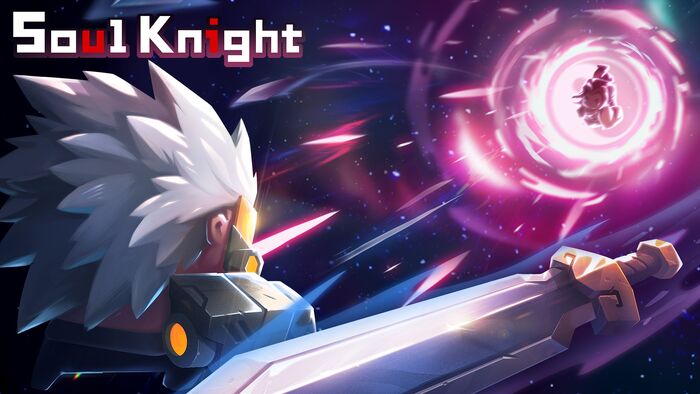 Welcome to the Soul Knight Wiki!
Unofficial wiki for the Soul Knight game made by ChillyRoom Inc. © for Android, iOS, and Nintendo Switch, released as of February 17th, 2017.
The current version of the game is 2.7.2, released on 29th July 2020 for Android and iOS.
This wiki was founded by the user Minecraftguide1.
More information about the wiki can be found here.
QUICK NAVIGATION

Major Update Announcement - Version 2.7.0 released

Version 2.7.0 is currently live on iOS and Android (23rd July 2020).
Click here for the full list of patchnotes.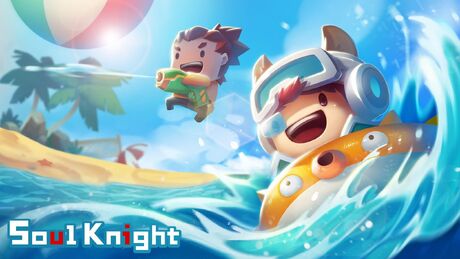 Includes:
Added 2 new characters Officer and Taoist, each comes with 2 skills.
Added third skills for 8 characters.
Added new skins.
Added new challenge conditions.
Added Fish Chip Shop. You can trade fish chips for rare products like skins and pets.
Added new monsters.
Added new weapons and plants.
Added new mercenaries.
Made minor changes.
Patch size: 96.93MB
Summer Update Sneak-Peeks
If you would still like to see them, here are some 2.7.0 sneak-peeks:
KTplay Summer Previews:
Akumaxx_ws's blog post.
Major Update Announcement - Version 2.6.0 released
Version 2.6.0 is currently live on iOS (8th April 2020) and live on Android depending on the region.
Click here for the full list of patchnotes.
Includes:
Happy Easter! The lobby is decorated with the Easter theme. A new Easter statue is added.
Added more features to Digital Space. You can design your own scenario and play with a gravity machine.
Added a Redeem Machine in the workshop. Vouchers can be used to redeem seeds or weapons.
Added special attacks and new weapons to armor mounts.
Added a skin Bunny Lady for Necromancer.
Blueprint is no longer needed for Laser Sword Gold.
Remade Snow Fox series, Firebolt, SMG M1, Burp Gun.
Added new merging recipes.
Fixed a series of bugs, including the one of Laser Fish
Patch size: 101 MB

The Game

Check out the About the Game page for more info.

"Explore the dungeon, collect crazy weapons, dodge bullets and shoot'em all up!"
"In a time of gun and sword, the magical stone that maintains the balance of the world is stolen by high-tech aliens. The world is hanging on a thin thread. It all depends on you retrieving the magical stone…"
We honestly can't keep making it all up. Let's just shoot some alien minions!
This is the game you have always wanted in your subconscious. Explore the dungeon, collect crazy weapons, dodge bullets and shoot'em all up! Extremely easy and intuitive control; super smooth and enjoyable gameplay, mixed with rogue-like elements. Best shooter game you will find on the mobile store so far.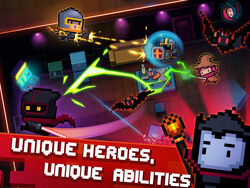 Features:

Unique heroes, with unique [abilities].

[348] weapons waiting for you to explore.

Randomly generated dungeon world, new experience every time.

NPCs that actually matter! They will fight by your side!

Auto-aim mechanism for super intuitive control.

Many more features that you will find out in game.

Polls

What's your favorite character?
What's your favorite statue?
What game mode do you enjoy playing the most?
Thanks for voting!
01:07, Tuesday 22 September 2020
(UTC)
There are
830
articles on Soul Knight Wiki.

Important links

Weapons | Characters | Skills | Enemies | Bosses | Buffs | Statues | Living Room | NPCs (Category) | Items (Category) | Environmental Features | Gold | Gems | Stats | Debuffs | Followers | Pets | Levels | Potions | Shops | Chests | Changelog | Bugs and Exploits | Badass Mode | Boss Rush Mode | Co-op Mode | The Origin | Sandbox Mode | Loop Mode | FAQ
Looking for ChillyRoom representatives? Tweet at them on Twitter, message them on their Facebook page, talk to staff on KTPlay, contact ChillyRoom on Reddit, or find @ChillyRoom Staff on Discord.

Other notices

Here are some of the codes that will reward you with gems. This is feature is currently only available for Android devices and can be found by pressing the padlock button in the start menu options.
Known codes include:
100000 - 500 gems
SKGIFT - 500 gems
SKNIGHT - 488 gems
SKBACK - 999 gems
DUOSHOU - 500 gems
DRUID - 999 gems
NDAYSK - 800 gems
KLWYX - 666 gems
XNYDJ - 500 gems
SFXMAS2017 - 666 gems
SFESTIV - 888 gems
DCDYX - 333 gems
VDAYKLE - 600 gems
ZSDHMK - 500 gems
LWYXZYBGX - 800 gems
HMBSJ - 369 gems
QDKYS - 577 gems
DXGTM - 600 gems
NEWHALL - 999 gems
BYETIGER - 777 gems
GOSDAD - 666 gems
DESTLAD - 1111 gems
18NTDRO - 1010 gems
ROMMO - 800 gems
GDX6KK - 888 gems
6KKNTQE - 1000 gems
SUPER5 - 666 gems | Free Trial Voucher x 3
WISH - 500 gems, one Heptacolor Viola seed, 1 Fertilizer
WEAPONS - Vine (Plant) x1, Green Onions (Plant) x1, Carrot (Plant) x1
GARDEN - Oak Tree x1, Ironwood x1, Gear Flower x1, Trumpet Flower (Plant) x1
FLOWERS - Heptacolor Viola x5
BIGMOUTH - 1 Titan Arum seed, 1 Fertilizer, 500 Gems

IMJINKELAGARDEN - Oak Tree x1, Ironwood x1, Gear Flower x1, Trumpet Flower x1

JINKELA - 3 Fertilizers
NERD7Z - 3 Ironstone, 3 Timber, 1288 Gems
IROBOT - 5 Parts, 5 Battery, 515 Gems
EN3FKZGET - 5 Ironstone, 5 Timber, 1888 Gems
70YEARS - 777 Gems
IMOBSESSIONT - 1888 Gems
SUNFORGET - 1111 Gems
19NEWYEAR - 999 Gems
2THANIV - 1000 Gems
FRBK1 - 666 Gems
TDY8ET - 888 Gems
CGDTH - 700 Gems
WILLBEBYE - 888 Gems
SIONT74SCJ - 600 Gems
F9Z3HA1SUN - 1000 Gems

ROMMOGDX6KKNTQE19NEWYEAR2THANIVFRBK - 888 Gems
1TDY8ETOWFUABO2LMJINKELAGARDEN7 - 777 Gems
MIAOMIAO520 - 555 gems
Expired codes (Change your device's time to 1 May 2017 to claim):
DZBKQ - 888 gems
51KUAILE - 1000 gems
LBLGYB - 1000 gems
ZIJIREN - 666 gems
LTZJR - 666 gems
SQSHBB - 500 gems

Wiki notices

Any important wiki concerns (or any other problems) should be directed to the Wiki Heads: Visphiric (inactive) or IxXQUEENXxI.
If you are new to the wiki, please check out the Wiki Rules.
If you have not done any previous wiki editing - but would still like to help out, please take a look at the editing guides (under contributing in the navigation bar) and the Wiki Guidelines.
If you are looking for something to do, please see the community messages or the wanted pages.
Please report any vandalism to one of the 2 persons mentioned above.
If you want to repeal a ban, do so by commenting on your own message wall. Find out more information here.
Facebook
Twitter
Community content is available under
CC-BY-SA
unless otherwise noted.