Welcome to the Soul Knight Wiki!
Community-led wiki for the Soul Knight game made by ChillyRoom Inc. © for Android, iOS, and Nintendo Switch, released as of February 17th, 2017.
The current version of the game is 4.2.6, released on 5th and 6th August 2022 on Android and iOS respectively.
This wiki was founded by the user Minecraftguide1.
Make sure to read our Wiki Rules.
More information about the wiki can be found here.

QUICK NAVIGATION


Major Update Announcement - Version 4.2.0 released

Version 4.2.0 is currently live on Android and iOS (10th July 2022).
Click here for the full list of patchnotes.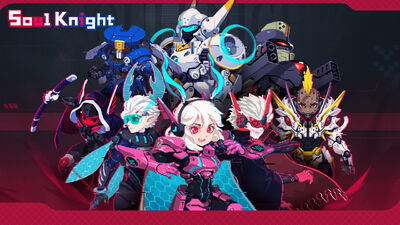 Includes:
New characters Demonmancer & Airbender.
New biome Chiseltown and the boss Queen.
6 Robotic Frenzy themed skins.
Loop Travel is back! Now called "Matrix of the Lord of Evil" and added to the multiplayer mode!
New quests and achievements added to The Origin.
2 multiplayer room skins.
New challenge conditions and weapon attachments.
A series of achievements and cassettes.
Added skill VFX to 17 skins.
Patch size: 161MB
Major Update Announcement - Version 4.0.0 released
Version 4.0.0 is currently live on Android and iOS (7th and 11th January 2022 respectively).
Click here for the full list of patchnotes.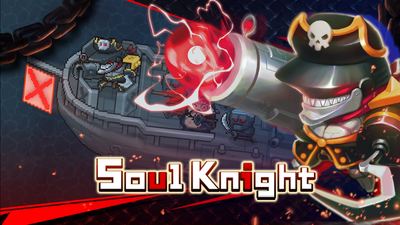 Includes:
Legendary Heroes Time Traveling Ninja & Special Forces.
Brilliant Civilizations, a new theme of 17 skins.
Remade The Origin. Explore the new map & build defense towers to win treasure!
Shaman is ready to make jewelry that buffs you up!
Increase Affinity level of your pet to unlock their skills!
11+ fishing catchables that have different purposes.
Crossover content from Soul Knight Prequel! Spoiler alert!
Mentor offers better buffs to some skills of Paladin & Officer.
Patch size: 150MB
Discord Official Merch Giveaway
To celebrate our Discord server passing 10,000 members, we are hosting an official, ChillyRoom-sponsored giveaway!
Three lucky winners will receive a pet Chilly cat plushie and Rogue Bubbles skin earphone case.
All you need to do is to join our server and click the party emoji in the #announcements channel to enter! The channel also provides more information.
The giveaway ends on 29th December. Good luck!
Major Update Announcement - Version 3.4.0 released
Version 3.4.0 is currently live on iOS and Android (15th and 16th December 2021 respectively).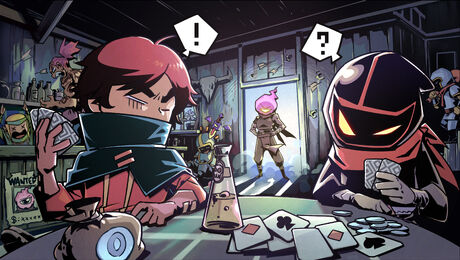 Note: The release date for Android users varies depending on their region due to a delay.
Includes:
Soul Knight X Dead Cells crossover!
New Legendary Hero, The Beheaded. Unlock with cells dropped by monsters.
New pet Serenade. Take Serenade to a fight for monsters to drop cells.
New boss The Giant added to Relics.
New Tape "Wander as a Cloud."
Added player designed skins of NPCS.
Added player designed SKmojis.
Some skills of Alchemist, Druid, Assassin, and Necromancer are buffed.
Retextured all skins of Berserker, Vampire, Druid and Officer.
Patch size: 166MB

The Game

Check out the About the Game page for more info.

"Explore the dungeon, collect crazy weapons, dodge bullets and shoot'em all up!"
"In a time of gun and sword, the magical stone that maintains the balance of the world is stolen by high-tech aliens. The world is hanging on a thin thread. It all depends on you retrieving the magical stone…"
We honestly can't keep making it all up. Let's just shoot some alien minions!
This is the game you have always wanted in your subconscious. Explore the dungeon, collect crazy weapons, dodge bullets and shoot'em all up! Extremely easy and intuitive control; super smooth and enjoyable gameplay, mixed with rogue-like elements. Best shooter game you will find on the mobile store so far.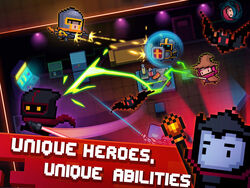 Features:

Unique heroes, with unique [abilities].

[411] weapons waiting for you to explore.

Randomly generated dungeon world, new experience every time.

NPCs that actually matter! They will fight by your side!

Auto-aim mechanism for super intuitive control.

Many more features that you will find out in game.

Polls

Thanks for voting!
06:24, Sunday 14 August 2022
(UTC)
There are
1,042
articles on Soul Knight Wiki.

Important links

Weapons | Characters | Skills | Enemies | Bosses | Buffs | Statues | Living Room | NPCs (Category) | Items (Category) | Environmental Features | Gold | Gems | Stats | Debuffs | Followers | Pets | Levels | Potions | Shops | Chests | Changelog | Badass Mode | Boss Rush Mode | Co-op Mode | The Origin | Sandbox Mode | Loop Mode | FAQ
Looking for ChillyRoom representatives? Tweet at them on Twitter, message them on their Facebook page, talk to staff on KTPlay, contact ChillyRoom on Reddit, or find @ChillyRoom Staff on Discord.

Gift codes

Here are some of the codes that will reward you with gems. This is feature is currently only available for Android devices and can be found by pressing the padlock button in the start menu options.
Known codes include:
100000 - 500 gems
SKGIFT - 500 gems
SKNIGHT - 488 gems
SKBACK - 999 gems
DUOSHOU - 500 gems
DRUID - 999 gems
NDAYSK - 800 gems
KLWYX - 666 gems
XNYDJ - 500 gems
SFXMAS2017 - 666 gems
SFESTIV - 888 gems
DCDYX - 333 gems
VDAYKLE - 600 gems
ZSDHMK - 500 gems
LWYXZYBGX - 800 gems
HMBSJ - 369 gems
QDKYS - 577 gems
DXGTM - 600 gems
NEWHALL - 999 gems
BYETIGER - 777 gems
GOSDAD -666 gems
DESTLAD - 1111 gems
18NTDRO - 1010 gems
ROMMO - 800 gems
GDX6KK - 888 gems
6KKNTQE - 1000 gems
SUPER5 - 666 gems | Free Trial Voucher x 3
WISH - 500 gems, one Heptacolor Viola seed, 1 Fertilizer
WEAPONS - Vine (Plant) x1, Green Onions (Plant) x1, Carrot (Plant) x1
GARDEN - Oak Tree x1, Ironwood x1, Gear Flower x1, Trumpet Flower (Plant) x1
FLOWERS - Heptacolor Viola x5
BIGMOUTH - 1 Titan Arum seed, 1 Fertilizer, 500 Gems

IMJINKELAGARDEN - Oak Tree x1, Ironwood x1, Gear Flower x1, Trumpet Flower x1

JINKELA - 3 Fertilizers
NERD7Z - 3 Ironstone, 3 Timber, 1288 Gems
IROBOT - 5 Parts, 5 Battery, 515 Gems
EN3FKZGET - 5 Ironstone, 5 Timber, 1888 Gems
70YEARS - 777 Gems
IMOBSESSIONT - 1888 Gems
SUNFORGET - 1111 Gems
19NEWYEAR - 999 Gems
2THANIV - 1000 Gems
FRBK1 - 666 Gems
TDY8ET - 888 Gems
CGDTH - 700 Gems
WILLBEBYE - 888 Gems
SIONT74SCJ - 600 Gems
F9Z3HA1SUN - 1000 Gems

ROMMOGDX6KKNTQE19NEWYEAR2THANIVFRBK - 888 Gems
1TDY8ETOWFUABO2LMJINKELAGARDEN7 - 777 Gems
MIAOMIAO520 - 555 gems
Expired codes (Can no longer be claimed):
DZBKQ - 888 gems
51KUAILE - 1000 gems
LBLGYB - 1000 gems
ZIJIREN - 666 gems
LTZJR - 666 gems
SQSHBB - 500 gems

Wiki notices

If you are new to the wiki, please check out the Wiki Rules.
If you have not done any previous wiki editing but would still like to help out, please take a look at the editing guides (under Contributing in the navigation bar), the Wiki Guidelines, and Wiki Terminology.
If you are looking for something to do, please see the Community page or the WIP pages.
Any important wiki concerns (or any other problems) should be directed to the Wiki Heads: Visphiric (inactive) or Astral Torus.
Please report any vandalism to one of the 2 persons mentioned above.
If you want to repeal a ban, do so by commenting on your own message wall. Find out more information here.
Facebook
Twitter